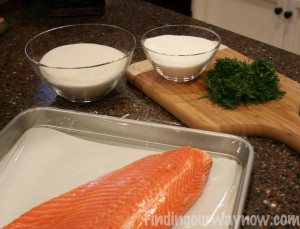 On the 3rd Day From My Kitchen, I give to you, a Three Day Gravlax Recipe.
I love this Three Day Gravlax for the very simple fact that it just so easy to make. It just takes time. I found this recipe in the How To Cook Everything: The Basics by Mark Bittman.  This Three Day Gravlax is great in the morning with bagels and cream cheese, as a hor d'oeurve or just by itself as a snack.  It is sinfully good.
Three Day Gravlax
Ingredients: Makes at least 12 servings
1 1/2 cup salt
1 1/2 cups sugar
1 bunch dill, chopped, stems and all
2- to 3-pound fillet of salmon (check that all bones are removed)
Directions:
Prepare a baking sheet with large sheets of plastic wrap.  Mix the salt, sugar and dill together until blended. Place the salmon, skin side down, on the plastic wrap. Cover the flesh side of salmon with salt and sugar mixture, making sure to coat it completely. There is more then enough of the mixture so just pile it on.  Wrap the fish well with the plastic wrap. Refrigerate immediately for about 30 hours.  After that, unwrap the salmon, and rinse off the cure. Dry, then slice on the bias.
Notes: The timing for this gravlax is imprecise; the longer it sits the drier and stronger the flavor will become. So if you're ready to serve it in just 24 hours after beginning the cure, by all means do so. Conversely, if you want to hold the cure for an additional 12 or 24 hours, feel free.  Remember to always treat the finished gravlax as a fresh product. Keep it well wrapped and refrigerated, and use it within a few days. Freezing is a safe option, but it will dry the salmon out to some extent, so avoid it if at all possible.
One of many ways we use this Three Day Gravlax is as lox and bagels, simple potato chip appetizer with sour cream, in an omelet, or by itself with a little sour cream and lemon juice.  The options are endless.  We love taking this as an item for a family holiday potluck.  It disappears very quickly when we do. Enjoy.
Time to eat…
PS: If you would like to write a guest post about one of your favorite recipes, we would love to hear from you.


Don't forget:
Subscribe via email | Like me on Facebook | Follow me on Twitter | Subscribe to my YouTube Channel





New to Disqus? Check out my tutorial